LatAm Health 2022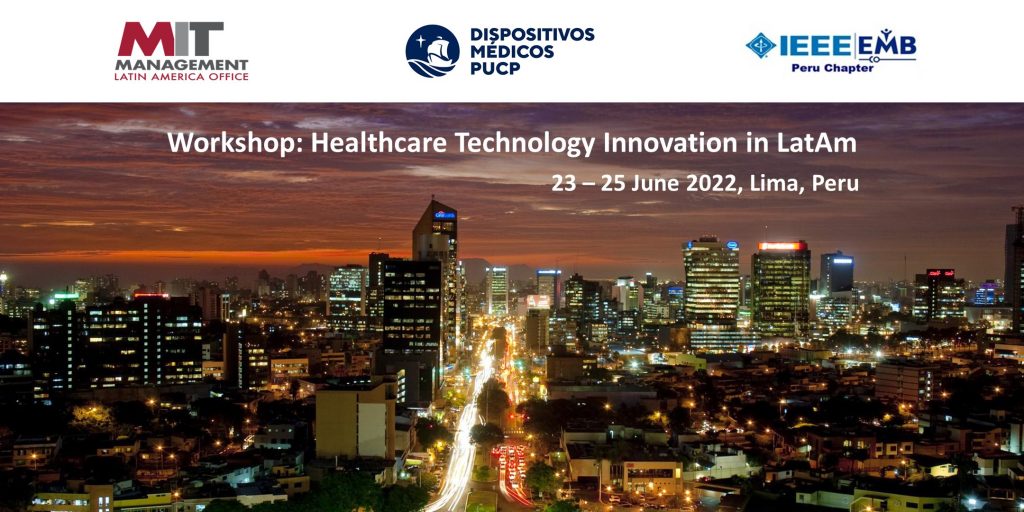 ---
Summary | Hosts | Agenda | Logistics | Sponsorship
---
Mission
To bring together healthcare innovators and stakeholders working in Latin America to democratize healthcare technology to share experiences and foster collaboration across countries and sectors.
Summary
This 2.5-day workshop will build off the success in developing ventilators and other technologies by teams in Peru, Chile, Colombia and USA, in response to COVID-19. Together we will explore the broad question of:
How can we foster sustainable healthcare technology innovation in Latin America that is appropriate, accessible, and affordable while meeting the highest clinical standards?
We will hear keynotes and case studies that demonstrate the potential to break barriers between medicine, engineering and industry. The two-day workshop will include a half-day hackathon around topics identified by the participants and culminate in a networking dinner. We will facilitate roundtable discussions to identify key ways to work together on global health challenges, explore opportunities for long-term collaborations and foster broader discussions around strengthening local innovation ecosystems. On the third day, a half-day working group meeting will be conducted by a subset of attendees and key partners.
We welcome the following stakeholders:
Academic researchers
Industry collaborators
Clinical leaders
Hospital officers
Local medical device industry
Government health and regulatory authorities
English is recommended but not required. We welcome a diversity of viewpoints and experiences.
This Workshop is limited to 100 attendees – Registrations must be confirmed by the organizers.
Location Change to PUCP Campus and campus access questionnaire – See Logistics
---
Agenda & Schedule
Thursday 23 June 2022 – Sala UNO, PUCP
08:30 – Coffee & Registration
09:00 – Welcome

Aldo Panfichi, Vice-provost for Research, PUCP
Benjamín Castañeda, Director of Medical Devices, PUCP
Nevan Hanumara, MIT

09:30 – Studies of Success – Invitees from Peru, Colombia, Chile (20/min case + 5 min Q&A)

Case studies and discussion will focus on the power of Extreme Collaboration

Key questions:

How did you develop the technology?
What were the partnerships developed?
How was clinical input incorporated into the design?
What was your regulatory strategy?
What were the biggest hurdles that you had to overcome?
What were your outcomes?

What are your key learnings for the future in how to better address healthcare gaps?

MIT E-Vent & Extreme Collaboration, Cambridge & New York, USA – Nevan Hanumara

Universidad de Concepción y Asmar, Concepción, Chile – Pablo Aqueveque
Break (10 min)
PCUVENTE & Medical Device Self-sufficiency, Cuban Neurosciences Center – Ernesto Velarde

The three-project model of Ruta N and creating new opportunities for Meridiano and Invertrónica, Universidad de Antioquia, Medellin, Colombia – Alher Mauricio Hernandez
Proyecto Masi, Lima, Peru – Benjamín Castañeda

12:00 –

Panel Discussion

(Moderated by Shriya & Benjamin)

13:00 – Discussion Lunch (participants will be assigned tables in cross-functional groups)

Each table will be asked to do a deep dive and prepare 3 slides for presentation in 5 min:

Slide 1 – Problem (defined in localized terms)

14:30 – Readout
15:00 – Keynote – Innovation Outside the University – Giovani Traverso, MD, PhD – MIT Mechanical Engineering and Brigham & Women's Hospital
16:00 – Discussion (moderated)
17:30 – Happy Hour – Mi Tercer Lugar Bar de Cervezas Artesanales, Av La Mar 2261 San Miguel (click for Google map link)
Friday 24 June 2022 – Sala UNO, PUCP
09:00 – Welcome – Benjamín
09:30 – MIT Mini Health Hackathon (Organized by Shriya & Nevan)

To provide an interdisciplinary experience in entrepreneurship and medical innovation, we will bring together engineers, clinicians, entrepreneurs, designers, and corporate partners to collaborate around shared interests, and ideate health solutions over a mini-hackathon.
During this event, we will guide participants in small teams through the healthcare design thinking process and strategies developed to constructively tackle systemic healthcare issues and generate tangible solutions.

13:30 – Lunch
14:30 – Startup / Flash Talks – 5 talks / 10 min each

Prothesia – Digital Fabrication of Personalized Medical Devices – Guillermo Herrera (by Zoom)
Medical Innovation & Technology

– Un equipo multidisciplinario que salva vidas a través de servicios de telemedicina

– Walter Sifuentes

COVOX

– El primer concentrador de oxígeno hecho en el Perú – Katherine Hinostroza

UmayuxLed – Equipo de fototerapia neonatal – Fabiola Moreno
Suyayni – Oxigenoterapia que se encarga de calentar el oxígeno y humidificarlo – Enrique Rodríguez
Proyectos BBVA, Universidad Peruana Cayetano Heredia, Luis Revilla

16:00 – Wrap Up
16:30 – Break
19:00 – Networking Dinner – La Bistecca, Centro Comercial Plaza San Miguel, Tienda 300 (click for Google map link)
Saturday 25 June 2022 – Invitation Only
10:00 – Small Group Discussions

Topic: Creating intra-American collaborations around Medical Device Development

13:00 – Open Lunch
---
Organizing Team
In collaboration with the MIT Sloan Latin America Office and IEEE EMBS Region IX members.
---
Logistics
Venue & Important Access Requirements
Complejo de Innovación Académica (CIA) Sala UNO (click for Google map link)
The Sala is in the basement of the building.
PUCP, Av. Universitaria 1801, San Miguel, Lima
Registration opens at 8:30 AM and the program starts at 9 AM.
Access Requirements: Campus security requires that we ask for your government issued ID # number in order to enter PUCP and additional details. Please complete the campus access questionnaire by Tuesday, 21 June 2022.
Please have your government ID and proof of vaccination when you arrive. We would like to remind you that masks are required within public spaces, except when presenting or eating.
Emergency Phone (available during the event) +51 914 408 603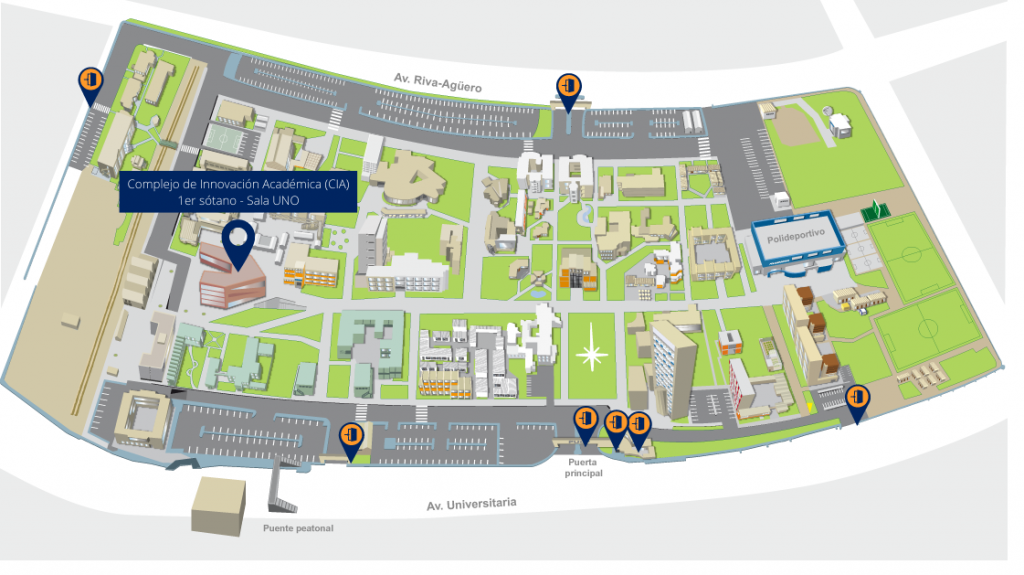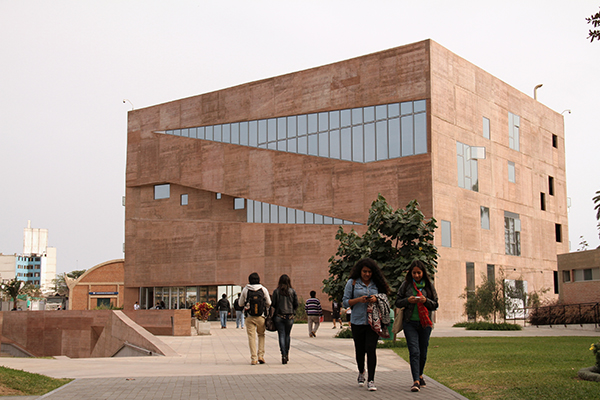 Airport
Aeropuerto Internacional Jorge Chávez (LIM)
Transportation
Estimated travel time from LIM to San Isidro / Miraflores – 45 min
For ground transportation, we recommend apps including: UBER, Cabify, Didi, Satelital.
Useful Transportation Information in Peru
Recommended Hotels
We are pleased to recommend three properties:
Hotel Melodia, Av. La Marina 2247, San Miguel (economic)
Please book online
La Paz Apart Hotel Av. La Paz 679, Miraflores (medium) – S/281.60
Contact: Paola Da Silva, recepcion@lapazaparthotel.com, 242-9350
Ibis Larco Miraflores, Av. Larco 1140, Miraflores (medium) – $75
Contact: Andre Sarmiento, H6971-re@accor.com, 634-8888
COVID-19
Three WHO approved vaccinations are required in order to access public spaces in Peru.
The wearing of masks is required inside PUCP facilities.
---
Sponsorship
In the spirit of collaboration, there is no registration fee for this Workshop.
This event is sponsored by the PUCP and the MIT Sloan Latin America Office.